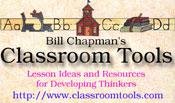 Secrets of Good Lessons
Good lessons do one or more of the following:
stress that the Right Process is usually more important than the Right Answer.
make the Strange Familiar or the Familiar Strange.
involve students in some sort of "Real Life" activity or simulation.
have clear Goals and easily measured Objectives.
ask students to build on their existing skills and knowledge.
give students the opportunity to develop their ideas individually and in small groups before involving them in lectures or other large group activities.
show that you view your teaching self as a "guide on the side" rather than a "sage on the stage".
center on subjects that excite the teacher's passion and love. Such subjects provide that extra motivation as teachers struggle to translate what they have to offer into a form that will be clearly understood by their students.
---
copyright © 1998-2003 classroomtools.com. All Rights Reserved.
original web posting: Wednesday, September 9, 1998
last modified: Monday, August 04, 2003