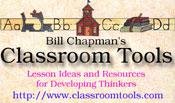 Creative Uses for Textbooks

Most of this site's lesson ideas show you how to take pieces of information from the environment and present them to your students in engaging ways. To model your own lessons on them requires that you find additional pieces of appropriate information. If the resources for which I provide links do not give you just what you want, the search can be time consuming. However, one source that I'm certain virtually all of you have is your classroom textbook - undoubtedly the most familiar resource of all. The links below lead to lesson ideas that can make them strange (and attractive) again.
While newspaper advice columns are not new, their popularity remains undiminished. In this activity, your students study real advice columns for their technique and style, then put what they've learned into practice using information gleaned from their textbook. You'll probably be surprised at the results.
Turn your history students into TV news teams.
All of us are constantly making inferences. Few of us know how to recognize them, why we should attempt to do so, or what to do with them if we do. Help your students join the select few.
---
copyright © 1998-2006 classroomtools.com. All Rights Reserved.
original web posting: Monday, September 14, 1998
last modified: Wednesday, October 07, 2009