Italicized links open a new window to an external site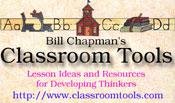 Lesson Ideas
(why IDEAS not PLANS)
These are short activities for use at the start of a class period. They are designed to get students' attention, to help them put aside distracting thoughts, and to get them ready to focus individually and as a group on whatever activity will follow.
These are activities designed to fill one or more class periods. Some contain suggestions for outside assignments.
Here you'll find ideas for using textbooks in engaging ways.
Lesson ideas on external web sites
The links on this page contain some wonderful teaching ideas and lesson plans.
---
copyright © 1998-2003 classroomtools.com. All Rights Reserved.
last modified: Tuesday, March 04, 2003