Italicized links open a new window to an external site
It is Liberating and Empowering
To print the image below, click on it. It will open in a new browser window. Use your browser's print command to print it from there; then close the standalone window, being careful not to exit your browser program.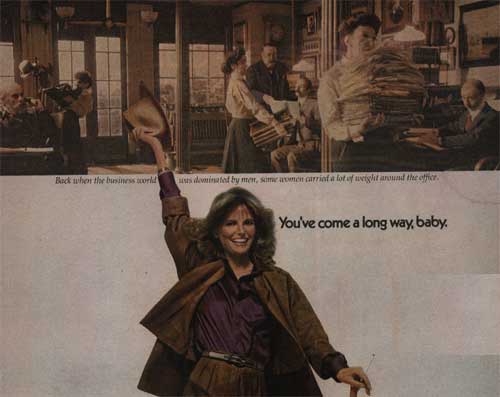 The first person to promise women freedom and power through smoking was Edward L. Bernays in 1929. He thereby single-handedly initiated social acceptance for women's smoking; and probably the lung cancer epidemic that struck women in the final quarter of the 20th century. It turns out that he did so at the behest of the American Tobacco Company. The health effects of smoking on women, and advertising's role in getting them to start has drawn the attention of the U.S. Surgeon General. Parts One and Two of the BBC documentary series the Century of the Self tell the story of Bernays and his role in the development of 20th century propaganda in the United States. Reviews of the series can be found at http://www.tagg.org/rants/selfcent.html. Links to all four hours of video are here.
David Satcher's 2001 Surgeon General's Report on Women and Smoking included the following graph. It illustrates just how far women have come.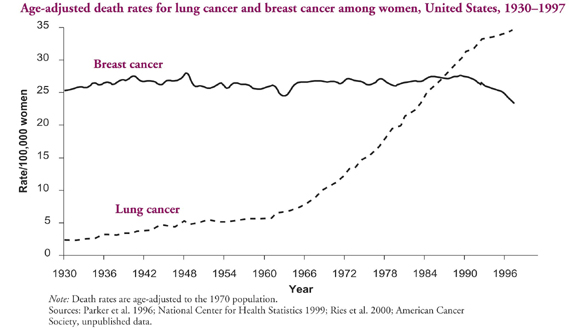 For more information from the U.S. Centers for Disease Control (CDC) on women and smoking, follow this link: http://www.cdc.gov/search.do?queryText=women+and+smoking&searchButton.x=0&searchButton.y=0&action=search
---
return to the Why People Smoke page
return to the Propaganda in the Classroom page
copyright © 2001-2009 classroomtools.com. All Rights Reserved.
original web posting: Tuesday, October 9, 2001
last modified: Friday, November 20, 2009