Italicized links open a new window to an external site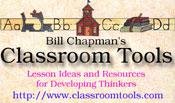 Site Map
To return to this map after selecting one of the non-italicized links below, click the back arrow button on your browser's tool bar, or the Site Map button at the top of the page. Italicized links open a new window to an external site.
Here is a group activity that allows students to explore the social value of inventions that appeared during the Industrial Revolution

Challenge your students to identify and move beyond their assumptions.

See food in a new light.

The story of the Lost Colony of Roanoke forms the basis of this activity. It not only provides a way to get your students up and moving about the classroom in a purposeful manner, but also illustrates a key activity that makes up the professional lives of research historians - taking what often seem to be random bits of information found during research, and organizing them into a coherent story. It also can be used to help students develop the skills necessary to function effectively in groups.

Lesson Ideas

What do your students already know?

General Skills

Longer Arguments

Propaganda Goes to War

Advertising

The Ads Analyzed

sample assignments and aids

a vocabulary assignment for The Transplant Committee
Transplant Committee problematic words linked to their dictionary definitions
a set of three assignments based on the ideas of Rushworth M. Kidder as explored in his book How Good People Make Tough Choices: Resolving the Dilemmas of Ethical Living (Morrow, 1995)

Instructions for

calendars for distribution to students

instructions for

Exponential Salary chart (without scientific notation)
Exponential Salary chart (with scientific notation)
Student assignments

Here is a way to get students to understand world population statistics, and a bit of geography to boot.
Conducting the activity if

handouts students will need

the step by step guide to building a crossword puzzle

Adobe Acrobat PDF files


GIF files

click here to play the online Java version of the puzzle
As the puzzle is large, you might want to change your browser window to full screen if it is not already in that state. If you know how, you might also want to set your video card to display at its highest resolution. To return to this page when you are finished, press the back arrow on your browser's toolbar.

.
---
copyright © 1998-2012 classroomtools.com. All Rights Reserved.
last modified: Saturday, May 05, 2012